Composting Could Eliminate Food Waste Altogether
Outside of a landfill, food waste eventually decomposes, but it takes time. Composting speeds up that process and produces a bunch of other benefits along the way. When you toss your food waste into a compost you're also reducing the need for chemical fertilizers, producing nutrient rich soil and reducing methane emissions.
Making sure our food scraps end up in a compost is hands-down the best way to keep food waste from piling up. If we could get more people to compost, we could really make positive changes to the environment. The only problem is, composting isn't easy. Unless you have the time, space and resources to devote to maintaining a compost, it's not practical for most people to do at home.
That's Why We Offer A Food Waste Pickup Service That Regenerates Farmland
We know how big of an impact composting has on the environment. And we know there are a lot of people out there who understand it too, but aren't composting for one reason or another.
That's why R.City exists, to make composting accessible to everyone within the Phoenix Metro area. We want to make it as easy as possible for you to turn your food waste back into farmland. With our food waste pickup service, you get all the benefits of composting without having to do any of the dirty work. All you have to do is toss your food scraps into your R.City bucket and we'll exchange it with a clean bin every week.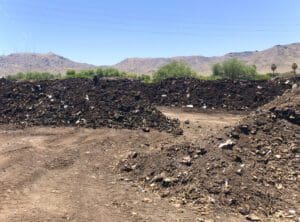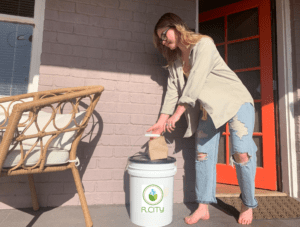 Our mission is to connect residents and businesses to local farming, closing the gap in our society between our food and where it comes from, and reducing food waste from entering our landfills.
The inspiration for starting R.City sprouted from the idea of creating a full-circle service by sending food waste to the same farmer that provides your produce. Our service began in 2013, here in the Phoenix Valley – where we have continued to pursue this mission over the past 8 years.
All of the food waste we collect goes directly to our farm where we compost it ourselves. We use the finished compost on our farm to grow produce (without the use of chemicals or pesticides). Our produce is then available for purchase – completing the full-circle of our service.